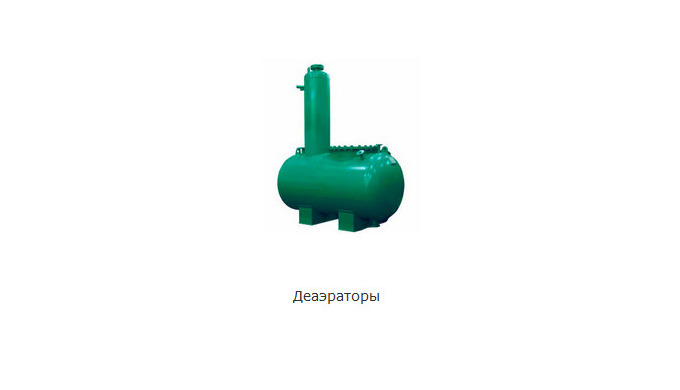 Atmospheric pressure deaerators of DA type (DSA) are manufactured with a capacity of 5, 15, 25, 50 and 100 t/h, which are used to remove corrosive aggressive gases (oxygen and carbon dioxide) from the feedwater of steam boilers and make-up water of hot water supply systems.

The deaerator consists of a deaerator tank, a
Description of the Product
Atmospheric pressure deaerators of DA type (DSA) are manufactured with a capacity of 5, 15, 25, 50 and 100 t/h, which are used to remove corrosive aggressive gases (oxygen and carbon dioxide) from the feedwater of steam boilers and make-up water of hot water supply systems.

The deaerator consists of a deaerator tank, a deaerator column, which in turn is designed for thermal deaeration of feedwater, a safety device, which in turn is designed to protect against a dangerous increase in pressure and water level in the deaerator plant and a evaporator cooler.

The surface evaporator cooler of the OVA type consists of a horizontal housing and a pipe system with a floating head located in it to provide the possibility of cleaning the internal surface of heat exchange pipes (material of the tubes is brass or corrosion-resistant steel).

To ensure safe operation of deaerators, they are protected against dangerous increase in pressure and water level in the tank using a combined safety device. The device is connected to the deaerator tank through the overflow connector. The device consists of two hydraulic locks, one of which protects the deaerator from exceeding the permissible pressure, and the other from dangerous level increase, combined into a common hydraulic system, and an expansion tank. The expansion tank is used to accumulate the volume of water (when the device is activated) necessary for automatic filling of the device (after elimination of the plant malfunction), that is, it makes the device self-filling.


Price of the Product
Price not indicated
Category of the Product
I want to get more details about the product