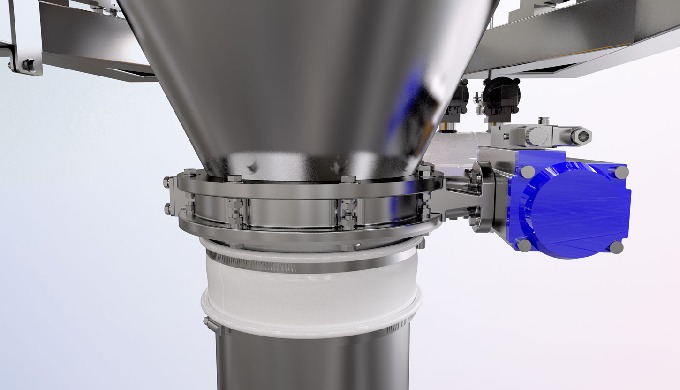 Components and systems for the extraction of powders and liquids from silos and hoppers.

Extraction from silos can be single or multiple with multiline distributor, on vibrating cone or fluidization system for a more continuous movement of product. Rotary and butterfly valves for pneumatic conveyance and feeding screws for accurate mete
Description of the Product
Components and systems for the extraction of powders and liquids from silos and hoppers.
Extraction from silos can be single or multiple with multiline distributor, on vibrating cone or fluidization system for a more continuous movement of product. Rotary and butterfly valves for pneumatic conveyance and feeding screws for accurate metering from silos and hoppers.
Extraction systems for microingredients on dosed container, fixed or mobile according to the needs of product and process.
All extraction systems are completely automated for a chronological emptying and can be controlled on touch panel for maintenance.
Features & Technologies
Direct manufacture
Multiple extraction with multiline distributor
Patented fluidization technology
Rotary and butterfly valves, screws
Accurate extraction of microingredients
Integrated automation
Price of the Product
Price on request
Characteristics of the Product
Type

Sistemi di estrazione

Model

Sistemi di estrazione
I want to get more details about the product
Company catalogues - CEPI SpA

Product Catalog (English)
36 pages

Company Profile (English)
10 pages

Globosilo brochure: outdoor silo in stainless steel (English)
5 pages

Silbox brochure - indoor silo in stainless or aluminium steel (English)
5 pages

Fermentation systems brochure (English)
9 pages

Bread and biscuit rework systems brochure (English)
7 pages

Integrated automation brochure: operatore panels, weighing in real time and process control software (English)
10 pages

Dump station brochure (English)
6 pages

Big Bag Dump Station brochure (English)
5 pages

Sugar Mill brochure (English)
5 pages

Flour Cooling System brochure (English)
5 pages