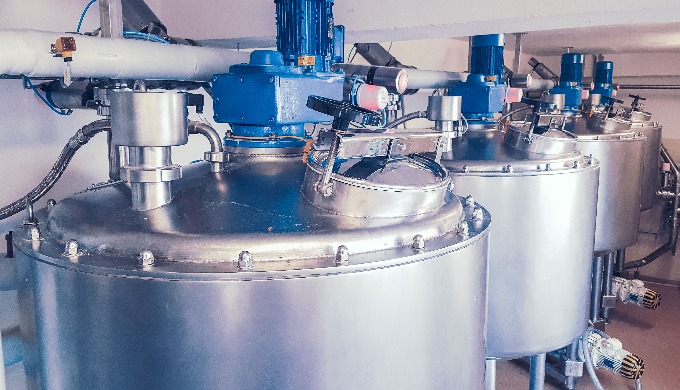 Indoor and outdoor tanks in stainless steel of variable size for the storing of liquid sugar such as glucose, syrup, fructose, inverted sugar, and also oil, fat, eggs and others.

Double jacketed and/or insulated, with temperature control unit for the management of heating and cooling processes.

Liquid tanks are used in the s
Description of the Product
Indoor and outdoor tanks in stainless steel of variable size for the storing of liquid sugar such as glucose, syrup, fructose, inverted sugar, and also oil, fat, eggs and others.
Double jacketed and/or insulated, with temperature control unit for the management of heating and cooling processes.
Liquid tanks are used in the systems for the production of inverted sugar, fermentation systems, cold fat metering and liquid fat metering systems.
Features & Technologies
Double jacket and/or insulated tanks
Heating and cooling
Temperature control
PH control
Motor agitator
CIP washing
Weight control in real time, integrated automation and full traceability
Manual or automatic loading
Flow meter
Dosing pump
Price of the Product
Price on request
Characteristics of the Product
Type

Cisterne per liquidi

Model

Cisterne per liquidi

Dimension

Custom

Brand

CEPI

Certification

ATEX
I want to get more details about the product
Company catalogues - CEPI SpA

Product Catalog (English)
36 pages

Company Profile (English)
10 pages

Globosilo brochure: outdoor silo in stainless steel (English)
5 pages

Silbox brochure - indoor silo in stainless or aluminium steel (English)
5 pages

Fermentation systems brochure (English)
9 pages

Bread and biscuit rework systems brochure (English)
7 pages

Integrated automation brochure: operatore panels, weighing in real time and process control software (English)
10 pages

Dump station brochure (English)
6 pages

Big Bag Dump Station brochure (English)
5 pages

Sugar Mill brochure (English)
5 pages

Flour Cooling System brochure (English)
5 pages