Contact - EAO Schweiz AG
Tannwaldstrasse 86
4600 Olten
Switzerland
Ask for Info - EAO Schweiz AG
Legal information - EAO Schweiz AG
| | |
| --- | --- |
| Nature | Headquarters |
| Year established | 1998 |
| Legal form | Limited company |
| Describe your Company and attract Business opportunities | |
| Corporate capital | 250,000 CHF |
| Handelsregister-Nr. | CHE-107.869.821 |
| VAT no | CHE-107.869.821 MwSt |
| Kompass ID? | CH052527 |
| Kompass member for | + 7 years |
| Membership | Booster |
Presentation - EAO Schweiz AG

Nature of business:
EAO is a world leading expert partner for Human-Machine Interface (HMI) with long and proven experience in the ergonomic design, development, manufacture and distribution of highly reliable pushbuttons, indicators and customised HMI solutions. The innovative flair has enabled EAO to attain a dominant market position with competitive, reliable products and solutions in areas such as transportation, machinery, telecommunication, panel building, automotive and process and control engineering.

Parent company:
• EAO AG, Tannwaldstrasse 88, CH-4600 Olten (CH), Tel: +41 62 286 91 11, info@eao.com

Sister company:
• EAO (Guanghzhou) Ltd., 3/F, Block G4, South China New Materials Innovation Park, 31 Kefeng Road, Guangzhou Science City, CN-Guangzhou PRC (CN), Tel: +86 20 32290390 or +86 20 32290610, Fax: +86 20 32290380, sales.ecn@eao.com
• EAO (Shanhai) Office, Rm.403,Block 5#, CIFI Century Square, Lane 28, NO.21, Danba Road, Putuo District, CN-Shanghai PRC (CN), Tel: +86 21 6095 0717, Fax: +86 21 6095 0717, sales.ecn@eao.com
• EAO GmbH, Langenberger Straße 570, DE-45277 Essen (DE), Tel: +49 201 8587 0, Fax: +49 201 8587 210, sales.ede@eao.com
• EAO France S.A.S., 5 rue Henri François, FR-77330 Ozoir-la-Ferrière (FR), Tel: +33 1 64 43 37 37, Fax: +33 1 64 43 37 48, sales.efr@eao.com
• EAO (Far East) Ltd., Unit A1, 1/F, Block A, Tin On Industrial Building, 777 Cheung Sha Wan Road, Lai Chi Kok, Kln, CN-Hong Kong (HK), Tel: +852 2786 9141, Fax: +852 2786 9561, sales.ehk@eao.com
• EAO Italia S.r.l., Centro Direzionale Summit - Palazzo D1, Via Brescia, 28, 20063 Cernusco sul Naviglio (MI), IT-Italy (IT), Tel: 39 029 247 1934, Fax: +39 029 247 1935, sales.eit@eao.com
• EAO Japan Co. Ltd., Net 1 Mita Bldg. 3F, 3-1-4 Mita Minato-ku, JP-Tokyo 108-0073 (JP), Tel: +81 3 5444 54 11, sales.ejp@eao.com
• EAO Benelux B.V., Kamerlingh Onnesweg 46, NL-3316 GL Dordrecht (NL), Tel: +31 78 653 17 00, sales.enl@eao.com
• EAO Corporation, One Parrott Drive, Shelton, US-CT 06484, USA (US), Tel: +1 203 951 4600, Fax: +1 203 951 4601, sales.eus@eao.com
• EAO Ltd, Highland House, Albert Drive, Burgess Hill, GB-West Sussex RH15 9TN, United Kingdom (GB), Tel: +44 1444 236 000, Fax: +44 1444 236 641, sales.euk@eao.com

Statutory auditors:
• KPMG AG, Zürich
Company's Videos - EAO Schweiz AG
General Information - EAO Schweiz AG
Certifications
| | |
| --- | --- |
| Type: | ISO 9001:2008 2016 |
| Type: | ISO 14001:2004 |
| Type: | IRIS |
Banks
CREDIT SUISSE (4), Olten-A, 4601 Olten, Swift: CRESCHZZ46A
Herr Bernard Bonvalot
MD/Chief Operating Officer (Geschäftsführer)
Herr Christoph Siegenthaler
Manager (Management)
Herr Bernard Bonvalot
Manager (Management)
Herr Kurt Loosli
Chairman (Präsident des Verwaltungsorgans)
Herr Dirk Hofmann
Director (Mitglied des Verwaltungsorgans)
News - EAO Schweiz AG
New product
New Series 09 product variants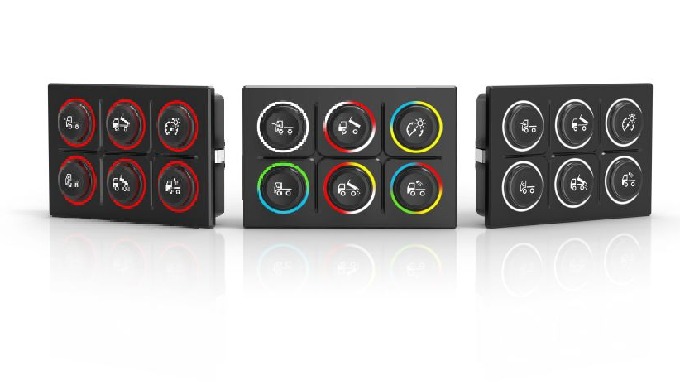 Date: June 28, 2021 11:21 AM
Optimal for your application.
Olten, Switzerland, January 2021
– EAO enhances its robust, modular and reliable Series 09 CAN Modules with innovative product variants that offer IP67 front protection and white symbol illumination.
The Series 09 Keypads and Rotary Cursor Controllers are available in a range of different variants. They all have the flexibility of interchangeable legends, but come with a choice of different halo illumination features, communication protocols and connector types for example.
This wide choice allows designers to specify only the HMI features they actually need for their vehicle application, therefore minimising hardware costs and optimising the scope of their software development – optimal for your application.
Typical applications
Roadmaking vehicles and roller compactors
Loaders, dozers and excavators
Cranes, dump trucks and crawler drills
Fire-fighting and rescue vehicles
Road sweepers, cleaning vehicles and refuse trucks
Snow removers and groomers
Agricultural vehicles and equipment
Robust and innovative construction is a feature of the Rugged CAN Keypads design. The actuators and indicators are protected up to IP67 and work reliably at operating temperatures from – 40 °C to + 85 °C. The low back panel depth and robust clip-in or screw-in mounting allow easy, flexible installation, either vertically or horizontally.
Read more at
www.eao.com/09
New product
Series 09 Universal Switch.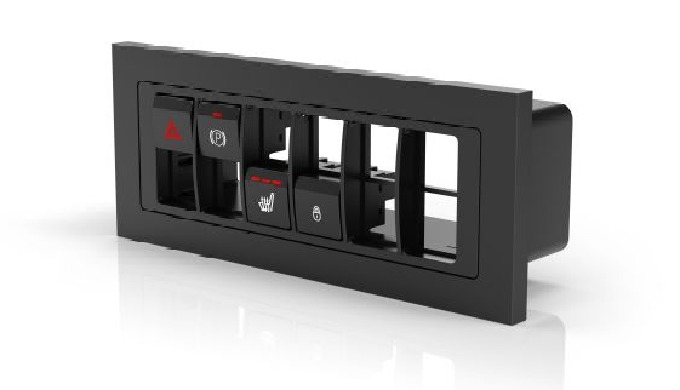 Date: June 23, 2021 11:13 AM
Attractive and versatile for vehicle interiors.
Olten, Switzerland, December 2020 – EAO, the Expert Partner for Human Machine Interfaces (HMIs), enhances the Series 09 with the attractive and versatile Universal Switch. The Series 09 universal switch has been developed for E1 applications, includes an integrated connector recess and is ideally suited for use in vehicle interiors – in particular for various switching controls in passenger cars, electric vehicles, buses, trucks and special vehicles.
Typical applications / functions
Menu button
Reset button
Tyre failure/malfunction
Lock/unlock
Headlights On/Off
Air conditioning On/Off
Seat heating
Air conditioning
Ventilation fan
Blower position
Hazard warning switch
Driver airbag on, off or not existing
Passenger airbag on, off or not existing
ESP off
Parking brake
The Series 09 switches can be combined to create an almost unlimited range of switch functions in many varied vehicle applications. The modular ergonomic automotive design and the adaptor frames allow the switches to be installed in a standard DIN ISO 7736 radio slot. These high quality switches have an attractive, durable surface finish with an excellent haptic and tactile feedback. Furthermore, they can be marked with illuminated ISO 7000 or customised symbols.
Advantages
Ergonomic, modular design with IP5K4 protection
ISO 7000 or customised symbols
Mountable in standard DIN radio slot (DIN ISO 7736)
Wide range of applications due to multi-status indication
Snap-in mounting and two tactile styles (firm or soft click)
Read more at www.eao.com/09
Location - EAO Schweiz AG
Opening hours - EAO Schweiz AG
Monday
8:00 AM - 12:00 PM
1:30 PM - 5:00 PM
Tuesday
8:00 AM - 12:00 PM
1:30 PM - 5:00 PM
Wednesday
8:00 AM - 12:00 PM
1:30 PM - 5:00 PM
Thursday
8:00 AM - 12:00 PM
1:30 PM - 5:00 PM
Friday
8:00 AM - 12:00 PM
1:30 PM - 4:30 PM
Activities - EAO Schweiz AG
Producer
Distributor
Service provider
Main activities within the Kompass classification
Secondary activities within the Kompass classification