Contact - Valco Melton Spain
Pol. Ind. Agustinos C/G D34
31160 Orkoien
Spain
Ask for Info - Valco Melton Spain
Legal information - Valco Melton Spain
| | |
| --- | --- |
| Nature | Headquarters - Factory - Registered Office - Sales Office |
| Year established | 1952 |
| Legal form | Sociedad Limitada |
| Describe your Company and attract Business opportunities (CNAE09) | Fabricación de maquinaria para la industria del plástico y el caucho (2896) |
| CIF | B31262009 |
| VAT no | ESB31262009 |
| No employees | 130 Employees |
| Kompass ID? | ES1035631 |
| Kompass member for | + 7 years |
| Membership | Booster |
Presentation - Valco Melton Spain
Hot Melting

Valco Melton is one of the world's leaders in adhesive dispensing machinery, vision inspection and electronic monitoring systems for quality assurance. From box manufacturing to making baby diapers or even assembling toys, we are specialized in the design and manufacture of quality assurance and dispensing systems that apply, monitor and verify liquids or adhesives to seal, box, package, carton, stick, bind, tape and even add perfumes or lotions within a wide variety of packaging machinery, paper converting, non woven, graphic arts, woodworking, and specialized product assembly categories.
Company catalogues - Valco Melton Spain

NonWovens Brochure (English)
5 pages

Coating Brochure (English)
8 pages
Company's Videos - Valco Melton Spain
General Information - Valco Melton Spain
Export area
Central/East Europe
Sr Gonzalo Marco
Manager (European General Manager)
Sr Carlo Zucchi
Site Director/Manager (Director of Sales, Europe)
News - Valco Melton Spain
New product
Perfume spraying vs. perfume drop dispensing: A new technical development that will bring important savings and efficie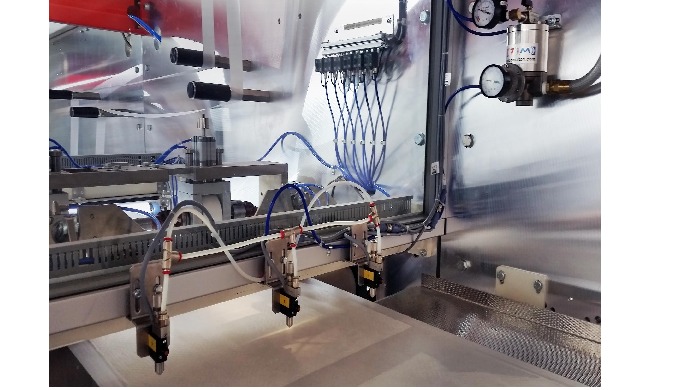 Date: June 20, 2021 11:03 PM
End: December 30, 2021 12:03 PM
Valco Melton's perfume solution allows customers who currently spray or atomize perfume into their products to migrate to a much more cost-efficient and eco-friendly dispensing technology, while ensuring a safer working environment for machine operators.

Perfume has traditionally been used on tissue rolls to mask the odor of adhesives and raw materials. But these sprayed liquids release particles in the air, causing unnecessary perfume waste and creating a potential health hazard. Operators might suffer from itchy eyes, dizziness and further hazards caused by the irritating substances atomized.

Valco Melton has engineered a perfume solution that applies precise perfume dots on each and every product, keeping the air free from atomized substances. Perfume drop application brings up to 60% in perfume savings, with ROI's as low as 3 months being frequently achieved.

Perfume drops also improve the product quality: the drop is precisely placed onto the
substrate allowing the manufacturer to select a precise location in order to reduce perfume interference with the product and the end user.

Traditional systems feature metallic parts inside the dispensing system and valves, resulting in higher maintenance and operational costs. Valco Melton's valve's key components are made of ceramic & stainless steel and there are not dynamic seals. They are long-lasting and require less maintenance.
New product
Packagers can demand faultless boxes and expect no machine downtime associated with defective cases when their suppliers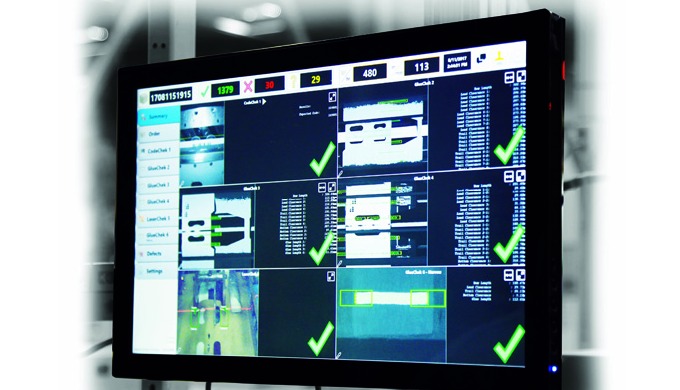 Date: June 15, 2021 9:55 AM
End: December 31, 2021 10:55 AM
Controlled from one single screen, ClearVision software can inspect up to 6 features of every single box such as glue patterns, codes readability, printing, print-to-print and print-to-board registrations and the correct position of scorelines. ClearVision provides custom solutinos that can be adapted to each product specifications.

GlueChek camera verifies glue presence, and its correct placement and volume to validate that every pattern has been properly applied. By measuring distances between printing and borders, RegChek detects variations in the print-to-print and print-to-board registrations. CodeChek camera verifies the readability of any barcode or 2D code printed on any place of the package and avoid mixed copies problems. ScoreChek verifies the correct scorelines position to determine that the blanks have been fed correctly. Finally, color, unwanted spots, marks, missing printing, board damages, smearing… can be inspected with PrintChek.

Box suppliers working with ClearVision's system guarantee that packagers will only receive defect-free boxes, avoiding subsequent machine downtime, product waste or end user complaints.

ClearVision is Valco Melton's quality inspection technology division, a leading supplier of gluing systems for the corrugated, folding carton, packaging, paper converting and other industries. Specifically designed for the packaging industry, ClearVision has also developed the PackChek camera, that inspects the already closed boxes for the correct hot melt pattern application for a perfect end-of-line box sealing.

Location - Valco Melton Spain
Key figures - Valco Melton Spain
Activities - Valco Melton Spain
Producer
Distributor
Service provider
Main activities within the Kompass classification
Other classifications (for some countries)
CNAE (ES 2009) : Fabricación de maquinaria para la industria del plástico y el caucho (2896)
NACE Rev.2 (EU 2008) : Manufacture of plastics and rubber machinery (2896)
ISIC 4 (WORLD) : Manufacture of other special-purpose machinery (2829)
Secondary activities within the Kompass classification